The title of this post is brought to you by Tuesday's exam and tonight's Carnegie Hall sojourn. Thank you, concerts, for helping culinary pursuits delay my inevitable re-review of the wound healing process.
Whenever my sister and I are in the same place, she begs me to make apple hand pies, which are these miniature quasi-turnovers that I've been baking ever since my mother got me Old Faithful, also known as Good Housekeeping: Baking, back in 2000. That recipe and several literary encounters got me interested in pasties. No, you lech, not
those
pasties. I'm talking about the savory pastry that originated in British mining towns (thus giving them the occasional moniker of Cornish pasties) and has a similar morphology to the hand pies.
Common fillings for pasties include steak, ham, turnips, potatoes, onions, and cheese. I'm sure such a concoction is delicious if you've been shoveling coal for five hours, but I usually like my meals a little lighter. After all, which of these miners would you rather look like?
(real miner)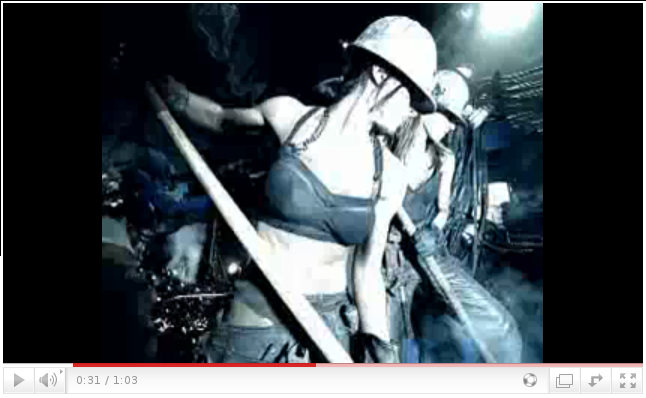 (GE's hilarious take on coal miners)
And so I bring you a pasty that is not Cornish, but Corn-ish.
Leek and apple Corn-ish pasties
Pastry:
1 cup flour
1 stick very cold butter, cut into tablespoons
1/2 tsp salt (or 3/4 tsp if you like a slightly saltier crust)
ice water
Filling
Salt, pepper, thyme, all to taste (sage instead of thyme would probably be good, too)
pinch of nutmeg
1 tsp soy sauce (sounds weird, but it imitates the flavor of gravy pretty well in this context)
olive oil
lemon juice
leeks (I used one large bunch)
1 apple (I used Granny Smith, but let's not be too strict on this one)
1 to 1 1/2 cups cheddar
Using a food processor, pastry cutter, two knives, or your fingers, mix the flour, salt, and butter until the butter is in approximately lima bean-sized chunks*. Add ice water one tablespoon at a time until the dough just holds together; three tablespoons should do it. Gently press the dough into a ball, then wrap it in plastic and refrigerate it for an hour (although more never hurt, and you can always make it the day before and leave it in there overnight).
Meanwhile, preheat the oven to 425 F. Halve the leeks lengthwise and slice them into not-quite-matchsticks. Cook them in about a tablespoon of olive oil until they're soft and season to taste. Peel (if you want), core, and thinly slice the apple; cut the slices into little triangles and toss the slices with a little bit of lemon juice.
Now, roll out the dough on a well-floured surface until it's about 1/8 inch thick. Use a mug or large biscuit cutter to cut out rounds of dough (I got three medium-sized pasties out of this). Put some leeks in the middle of each round and top with a few apple slices and some cheese. Fold the round over to form a little purse-shaped pastry and crimp the edges. Cut two slits in the top to let out some of the steam that will build up during baking, brush with olive oil (or melted butter or egg wash), and sprinkle on a little more cheddar. Bake for about 25 minutes or until golden brown. Let them cool for 5 minutes, then serve them while they're hot.
*Yes, Mark Bittman, it's usually pea-sized chunks, but a recent consultation of alternative culinary sources led me to change my opinion on this one.